Learn How to Hyponotize Others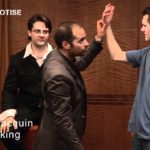 Learn Hypnotic inductions so you can hypnotize others. This is the first step in hypnotizing someone and it is the first step in learning hypnosis. There are many other aspects to learning  hypnosis, but hey, you have to start somewhere.
Check out this video and get started, then when you decide to get serious find a good training program a live in person training, so you cn really learn what to do once you get soeone into the hypnotic state. Learning hypnosis is about learning as much as possible, noit just how to put
someone into a trance state.
Discover more about hypnosis when you make the decision to take a live hypnosis training course with someone who has years of experience teaching and working with hypnosis. For additional information, visit Good Vibes Hypnosis Training which you can discover more about hypnosis training and certification.