Good Vibes Hypnosis Alliance Training Program
Good Vibes Hypnosis Training has been approved by The Newton Institute (TNI) for Life Between Lives Hypnotherapy as part of their Alliance Training Program.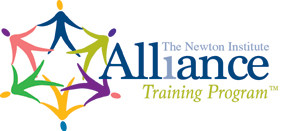 The TNI Alliance Training Programs are offered by TNI Certified Life Between Lives Therapists who offer Hypnotherapy Training and Past Life Regression Training that prepares the student for training as a Life Between Lives Therapist. When you enroll in an Alliance Training Program for your Hypnotherapy Training you will have a deeper understanding of a model of the mind that includes the superconscious mind as will as the subconscious mind.
Students who begin their Hypnotherapy career by studying with an Alliance Training Program member will be better prepared for the Past Life Regression Training and eventually the Life Between Lives training. Just like the process of becoming a Life Between Lives Therapist, it takes some work to join the ranks of the TNI Alliance Training Program. The extensive application process requires approval from the TNI education committee and the director of education.
Good Vibes Hypnosis Training has been a part of the Newton Institute Alliance Training Program for several years now, and some of our students discover our training through the Newton Institute website. Many of these students travel across the country to our training locations so they can prepare for the Life Between Lives Training with the Newton Institute.
When you complete your Basic and Advanced Hypnotherapy Training with Good VIbes Hypnosis you will earn your certification as a Certified Hypnotherapist and Good Vibes Hypnosis will even cover the cost of your first year of certification with the International Association of Counselors and Therapists (IACT).
Discover more about our Hypnotherapy Training by visiting our training website where you can enroll in the Basic and Advanced Hypnotherapy Training in Dallas, Phoenix, Atlanta, Houston or New Orleans.
This Dallas Hypnotherapy Certification Training is presented by Good Vibes Hypnosis Center which is not licensed by the Texas Workforce Commission (TWC). Good Vibes Hypnosis Center has received an exemption from TWC, E-4434, and is allowed to teach this class in specific locations in the state of Texas.
This course covers Beginning and Advanced Hypnotherapy Training.
Basic and Advanced Hypnotherapy Training Schedule
This Ten-Day Hypnotherapy Training for Certification in Dallas is Divided Into 2 Five-Day Levels

ENROLL NOW
Contact Mark for more information!
Hypnotherapy Certification Classes also available in Houston, New Orleans and Atlanta